Home | Wilderness | Backroads | Hiking | Gold Butte | Gold Butte Hiking and Camping
Gold Butte National Monument Campsites Overview
Hiking Around Las Vegas, Gold Butte National Monument
There are no developed campgrounds in Gold Butte National Monument, and in fact no facilities of any kind, but primitive camping is legal everywhere along existing roads and trails. I tend to stop and camp where I am when the sun goes down (including wide spots on dirt roads) but there are a fair number of traditional campsites scattered throughout Gold Butte National Monument. Here I provide information on the location and condition of several such traditional sites. There is little wood in the desert, so be sure to bring firewood from home.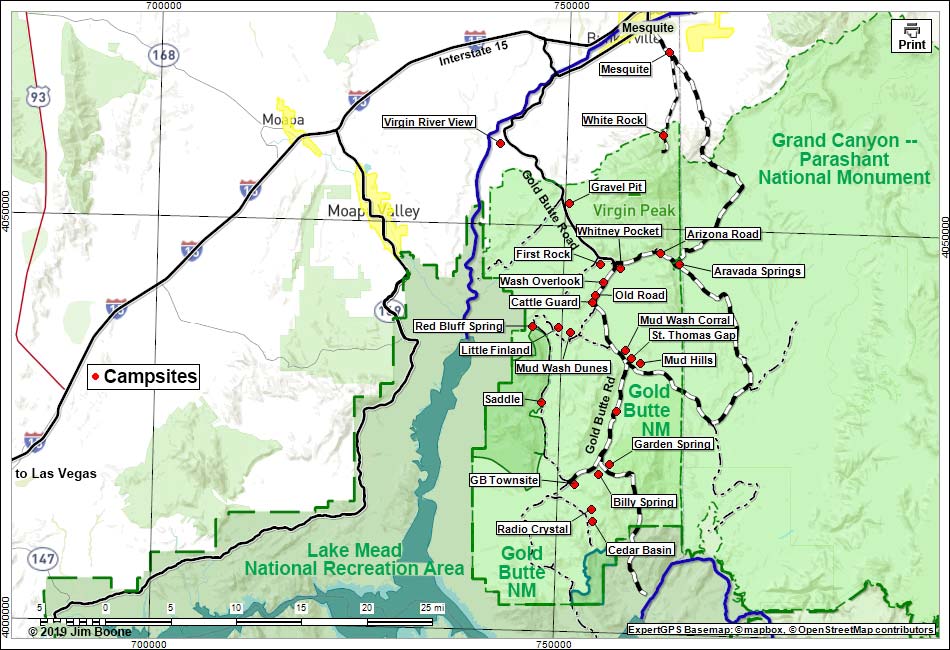 Note: Campsites are red dots. Roads are black (solid = paved; dashed = unpaved). Map based on USGS 15 minute topo map. North is at the top. Grid is UTM NAD27 CONUS. National Park Areas (boundaries dashed green, fill light green) based on NPS data. Water (boundaries solid blue, fill light blue) based on BLM data.
| | | |
| --- | --- | --- |
| Popular Campsites | Less Popular Campsites | Backroad Campsites |
| | | |
Happy Hiking! All distances, elevations, and other facts are approximate.


; Last updated 170110