Home | Wilderness | Hiking | Gold Butte Hikes
Hiking Around Gold Butte National Monument
Map
Hiking Around Las Vegas, Gold Butte National Monument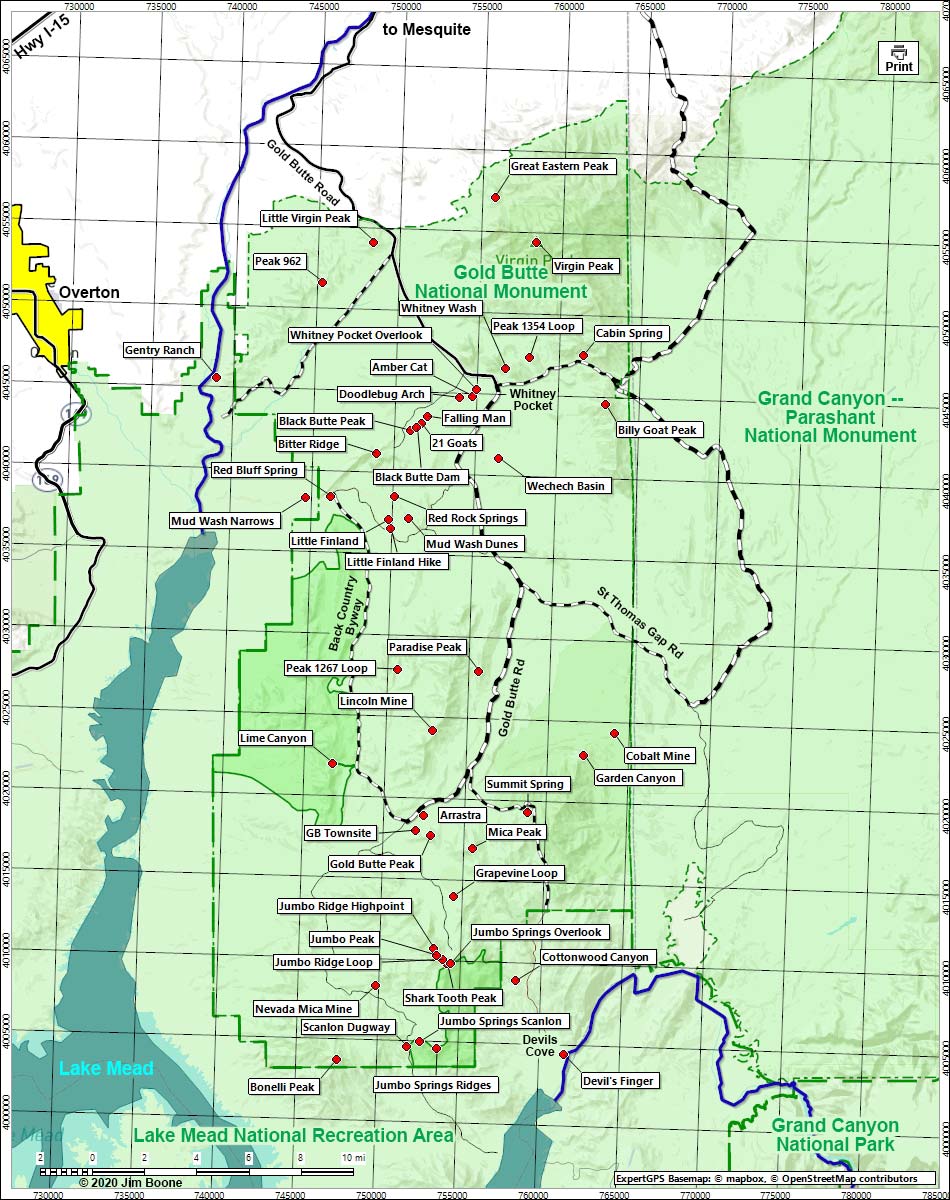 Note: Map based on shaded relief map. North is at the top. Grid is UTM NAD27 CONUS. Roads are black (solid = paved; dashed = unpaved; width implies quality). Water is blue. Trails and routes represented by red dots. National Monument areas (boundaries dash-dot green, fill light green) based on BLM data.
Hikes: Arrastra, Billy Goat Peak, Bitter Ridge, Black Butte Dam (direct), Black Butte Dam (via Falling Man), Black Butte Peak, Black Ridge, Peak 962, Bonelli Peak, Cottonwood Canyon, Devils Finger, Falling Man Petroglyph Site, Garden Canyon, Gentry Ranch, Gold Butte Peak, Granite Spring Arrastra, Grapevine Spring Loop, Great Eastern Peak, Jumbo Peak, Jumbo Ridge Highpoint, Jumbo Ridge Loop, Jumbo Springs Wilderness Overlook, Jumbo Springs Wilderness Scanlon Ridge, Jumbo Springs Wilderness So. Ridges, Little Finland, Little Finland from Mud Wash, Lincoln Mine, Lime Canyon, Little Virgin Peak, Mica Peak, Mud Wash Dunes, Mud Wash Narrows, Nevada Mica Mine, Red Bluff Spring, Red Rock Springs and Hartman Tank, Scanlon Dugway, Shark Tooth Peak, Summit Spring, Twenty-one Goats, Virgin Peak SE Ridge, Wechech Basin Loop, Whitney Pocket Overlook Trail, Whitney Wash.
Happy Hiking! All distances, elevations, and other facts are approximate.


; Last updated 170806