Home | Wilderness | Hiking | Lake Mead Hikes
Hiking Around Lake Mead NRA -- Hiking Areas Overview Map


Hiking Around Las Vegas
Overview | Hoover Dam Area | Northshore Area | Las Vegas Wash Area | Lake Mohave Area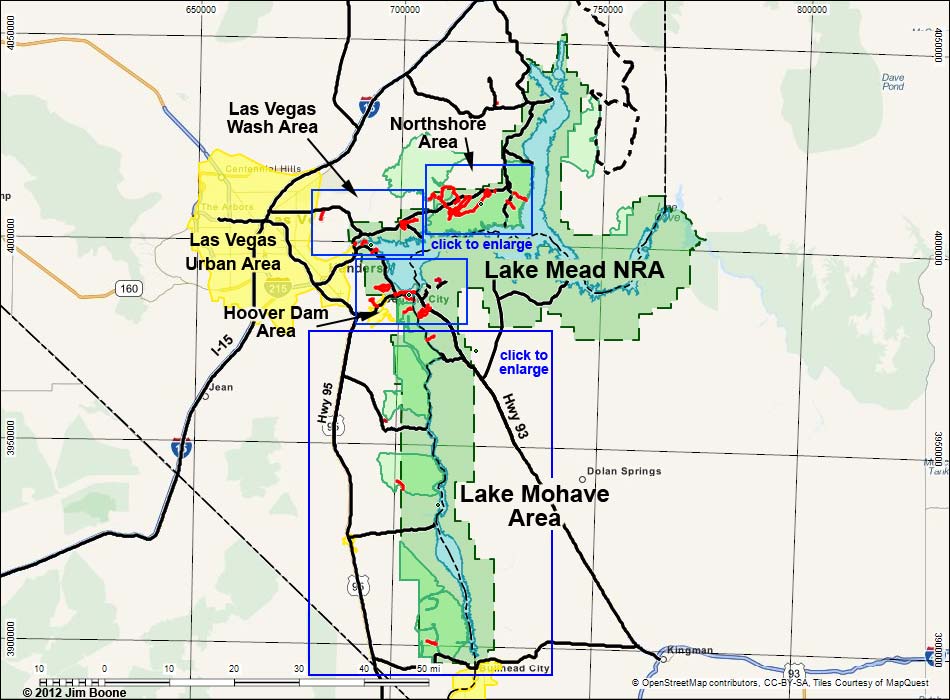 Note: Roads are black (solid = paved; dashed = unpaved). Trails and routes are red (solid = main; dashed = adjacent or alternate). Map based on Open Street Map. North is at the top. Grid is UTM NAD27 CONUS. Wilderness Areas (boundaries solid green, fill dark green) based on BLM data. National Park Areas (boundaries dashed green, fill light green) based on NPS data. Urban Areas (yellow) based on Google Earth (9/2012) image. Water is blue.
Key Words: Anniversary Narrows, Anniversary Peak, Arizona Hot Springs, via White Rock Canyon, Arizona Hot Springs, via Hot Springs Canyon, Black Mesa, Black Mountain Trail, Bluff Trail, Bowl of Fire Loop, Bowl of Fire, Southwest, Boy Scout Canyon, Cholla Forest, Cleopatra Wash, Cottonwood Spring, Cranes Nest Canyon, Dangl Mine Site, Fortification Hill, Frenchman Mountain, Goldstrike Canyon, Goldstrike Hot Springs, Grapevine Canyon, Hamblin Mountain, Hill 722T, Ireteba Wash, Liberty Bell Arch, Lovell Wash Narrows, Many Falls Canyon, Miner's Cove Overlook, Natural Bridge, Nevada Hot Springs, Northshore Peak, East, Northshore Peak, West, Northshore Summit, Petroglyphs, Pinto Valley Wash, Railroad Tunnels, Razorback Wash North, Razorback Wash South, Red Mountain Trail, Redstone Discovery, Redstone Loop Trail, Redstone Scramble, River Mts. Hiking Trail, Rockefeller Miner's Quarters, Seven Fall Canyon, Spooky Canyon, Sugarloaf Overlook, Wetlands Trail, White Owl Canyon
Happy Hiking! All distances, elevations, and other facts are approximate.


; Last updated 130202